Next Business Day Shipping

(unless noted) on PolarCool fans, plus the PolarCool Fans Best Price Guarantee
PROUDLY MADE IN THE USA!
Next Business Day Shipping

(unless noted) on PolarCool Exhaust fans. Exhaust fans are great for any application from commercial to Industrial. The PC 36" Exhaust / Wall Fan offers High Volume air movement.
PROUDLY MADE IN THE USA!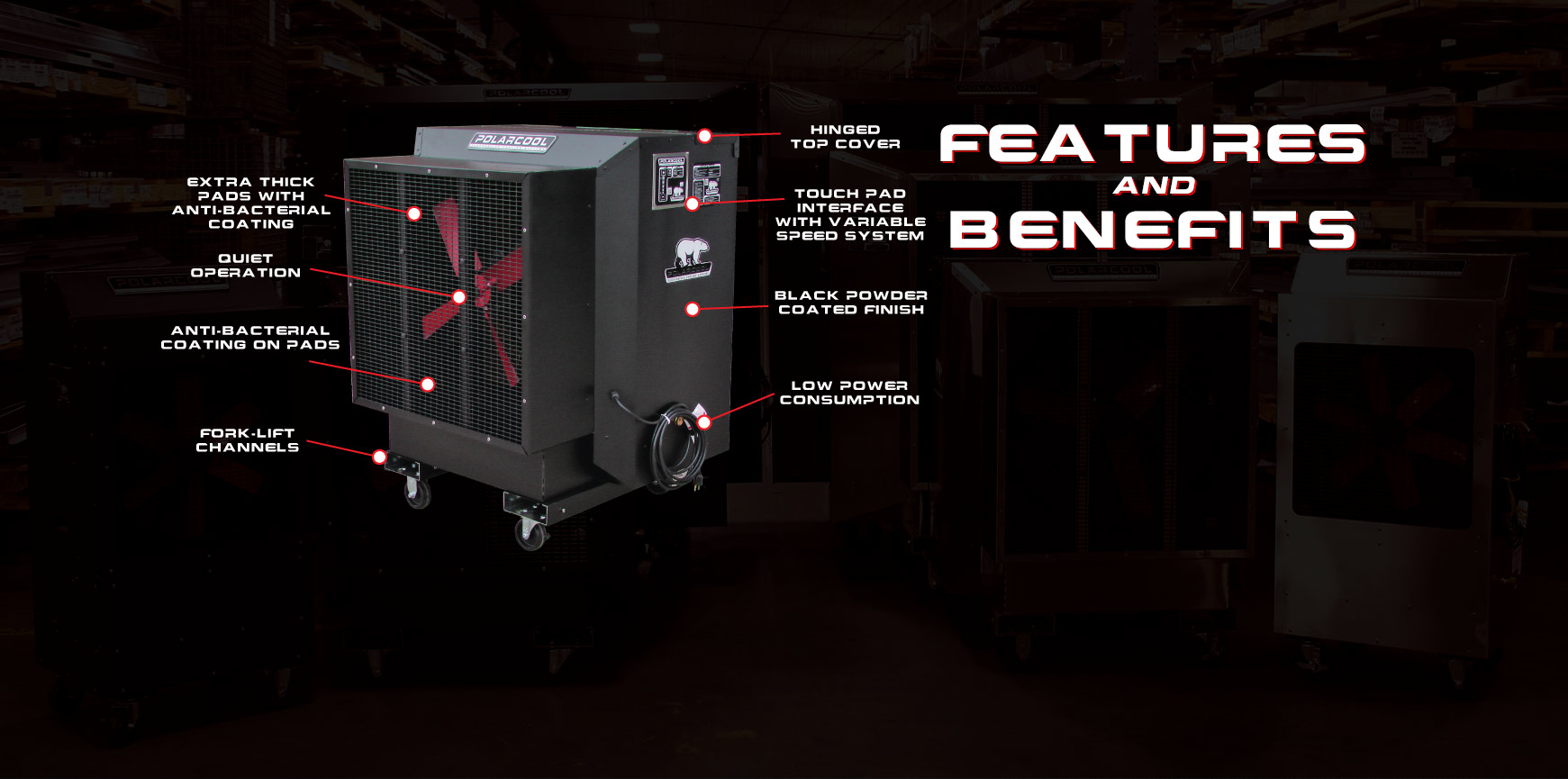 EVAPORATIVE COOLING TECHNOLOGY
PROUDLY MADE IN THE USA! PORTABLE EVAPORATIVE COOLING UNITS PROVIDE SPOT AND AREA COOLING WHERE YOU NEED IT, WHEN YOU NEED IT. EVAPORATIVE COOLING IS A TIME-TESTED AND EFFICIENT MEANS OF REDUCING AIR TEMPERATURE BY DRAWING INCOMING AIR ACROSS A WET SURFACE.
NEXT DAY SHIPPING!
Evaporative cooling is especially useful in situations where air inside the space to be cooled is well ventilated. Evaporative cooling needs only two factors to work: water and moving air. If you have any questions, please contact us @ (888) 765-5732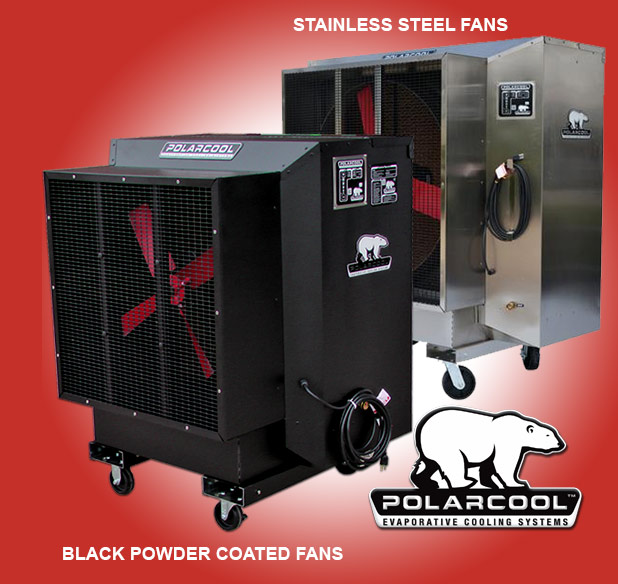 Fan Warranty: 3-Years on motor/electrical components, Lifetime warranty on metal product housing. Next Day Shipping!
INNOVATIVE
POLARCOOL SOLUTIONS
WHEN AIR IS MOVED ACROSS A WET SURFACE, SOME OF THE WATER ON THE SURFACE EVAPORATES. THIS ACTION DRAWS HEAT FROM THE MOVING AIR, THEREBY COOLING AND DROPPING THE AMBIENT TEMPERATURE.
All units feature high quality steel cabinets, heavy duty pumps and long lasting pads.
FACTORY DIRECT
HUGE SAVINGS!
POLARCOOL IS MAKING EVAPORATIVE COOLING ACCESSIBLE TO ALL.
Our pricing structure with direct to consumer sales makes PolarCool Evaporative Cooling Systems accessible and affordable to everyone.
WIDELY RECOGNIZED AS ONE OF THE INDUSTRY'S LEADING SUPPLIERS OF HIGH-PERFORMANCE, PORTABLE COOLING UNITS AND RELATED PRODUCTS. WE TAKE PRIDE IN OUR EXPERTISE AND TECHNOLOGIES TO MEET YOUR SPECIFIC NEEDS.
HH Technologies® provides cooling relief on the spot to an array of industries such as production and warehouse facilities, sporting events, automotive and manufacturing plants, outdoor/exterior cooling, and many others.
FOUR SIZE EVAPORATIVE UNITS AVAILABLE, AND 30 YEARS OF EXPERIENCE CREATING DURABLE, MOBILE, LOW-MAINTENANCE COOLING UNITS, HH TECHNOLOGIES® PROVIDES COOLING RELIEF ON THE SPOT TO AN ARRAY OF INDUSTRIES.
Portable Evaporative Cooling Units provide spot and area cooling where you need it, when you need it. Evaporative cooling is a time-tested and efficient means of reducing air temperature by drawing incoming air across a wetted surface.
ONLY MANUFACTURE PRODUCING EVAPORATIVE COOLERS IN BOTH STAINLESS STEEL OR BLACK POWDER COATED FINISH. BACKED BY LIFETIME WARRANTY ON ALL METAL HOUSINGS AND 3-YEAR WARRANTY ON MOTOR AND ELECTRICAL COMPONENTS.
4 Evaporative Cooling Fan sizes available: 18″, 24″, 36″ and 48″ ■ Models available with direct drive or belt drive, single-speed, or variable speed motor ■ Touch Pad Controller Interface ■ Low water automatic pump shut-off
HH TECHNOLOGIES®
P.O. BOX 99
BREMEN, AL 35033
TOLL-FREE (888) 765-5732
FAX +1 (256) 287-7010
Our customers and friends are the most important thing in the world to us. Please contact us whenever you have a question or concern about any of our products, or our company. POLARCOOL PROUDLY MADE IN THE USA!